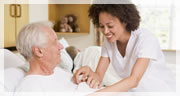 1927 Crepe Myrtle Dr.
Lancaster, Texas 75146-2037
view map & directions
Phone: 972-227-0362
Fax: 972-275-1511
Email: info@inspired2care.net
Office Hours
Monday-Friday 9am to 5pm
Registered Nurse on Call
After Hours and Holidays
Our Services
Driven towards excellence and inspired to give back to the community, we proudly offer home health services including:
We are well equipped and staffed with quality care providers to deliver the above services for you or someone you love. Give us a call to get started - 972-227-0362.
Who Qualifies For Home Health Care
You must be under a physician's care and the physician must order the services.
If you do not have Medicare, many of our services are covered through insurance and/or Medicaid, and Private Pay
If you are unsure if you are covered for home health, please contact us at 972-227-0362
We provide in home evaluations by a qualified registered nurse, with a physician order. A registered nurse is on-call 24 hours a day 7 days a week to handle any concerns.