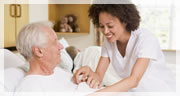 1927 Crepe Myrtle Dr.
Lancaster, Texas 75146-2037
view map & directions
Phone: 972-227-0362
Fax: 972-275-1511
Email: info@inspired2care.net
Office Hours
Monday-Friday 9am to 5pm
Registered Nurse on Call
After Hours and Holidays
Why Choose Us
What is value-worthy service to you? We define this every day with every senior citizen, home-bound patient and health-challenged individual entrusted to our agency's care. Patients only feel the "value" of the service when it meets their needs – and not the needs of another patient. The health care service we provide is exclusive and personalized to help achieve functional living for the patient.
Today, families face a need for reliable professional care services from health care practitioners, this need can be answered by our agency. Inspired To Care Home Health Agency has always been there for many clients, who have generously contributed to our growth. We feel honored every time we receive a referral, and it drives us to excel even more. "Inspiring Care Is Our Promise To You"
Choosing an agency with a drive is a key decision for any family or private individual to consider. Home Health Services may be state-standardized but every agency differs with how they interpret their profession as it impacts the community or the small family that they serve. To us, we only consider state standards as a benchmark – our aim is to exceed it. This results to the differentiation that we've established against other care providers.
Skilled Nursing, Therapy Services and other specialized home care services in their most efficient delivery – only at Inspired To Care Home Health Agency.