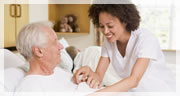 1927 Crepe Myrtle Dr.
Lancaster, Texas 75146-2037
view map & directions
Phone: 972-227-0362
Fax: 972-275-1511
Email: info@inspired2care.net
Office Hours
Monday-Friday 9am to 5pm
Registered Nurse on Call
After Hours and Holidays
About Us
Inspired To Care Home Health Agency understands and advocates for the celebration of individuality. In line with such ideals, we find ways to personalize our services for each client we serve. Exclusively designing a care plan for a patient is a standard part of our services, to assure the services or care programs being administered in their homes are parallel to the recovery recommendations of their physician. We partner with you for better health.
To accomplish such goals, our agency promotes core values and concepts that keep us grounded:
Integrity in all Services and Transactions
Responsibility
Sense of Urgency and Punctuality
Attention to Detail
Service with a Smile
Vision
Our vision at Inspired To Care Home Health Agency is to set a high standard for home health care through hard work, dedication and determination. At Inspired To Care Home Agency we will always put the needs of the patient first to promote productive and functional daily living.
Mission Statement
The Mission of Inspired To Care Home Health Agency is to participate as an active part of the community, in providing and continuously improving the home health care needs of the patient by delivering value driven, high quality compassionate care.
Our employees are required to undergo a screening process. From background checks, reference interviews, evaluation of experience to legal history, we make it our duties to screen every applicant. All members of our team have provided and were approved on the following requirements:
Current licensing up to Date
Current TB or Chest X-Ray
Current Certification on CPR
Our staff is composed of Attendants and Home Care Aides. The services you'll need from our team will depend on your medical history and the recommendation of your Physician. We also are composed with efficient qualified office staffs that are willing to go over and beyond to assure Inspired To Care Home Health Agency operates at its highest level of care.